Advantages of Financing with ShopPay/Affirm
CONVENIENT

No need to wait. Buy the things you love today and make easy monthly payments.

FLEXIBLE

The option to pay over time is available to most customers, whether you buy with Affirm, or use our lease-to-own partner, Katapult.

TRANSPARENT

Know exactly what you'll pay up front, without any surprises.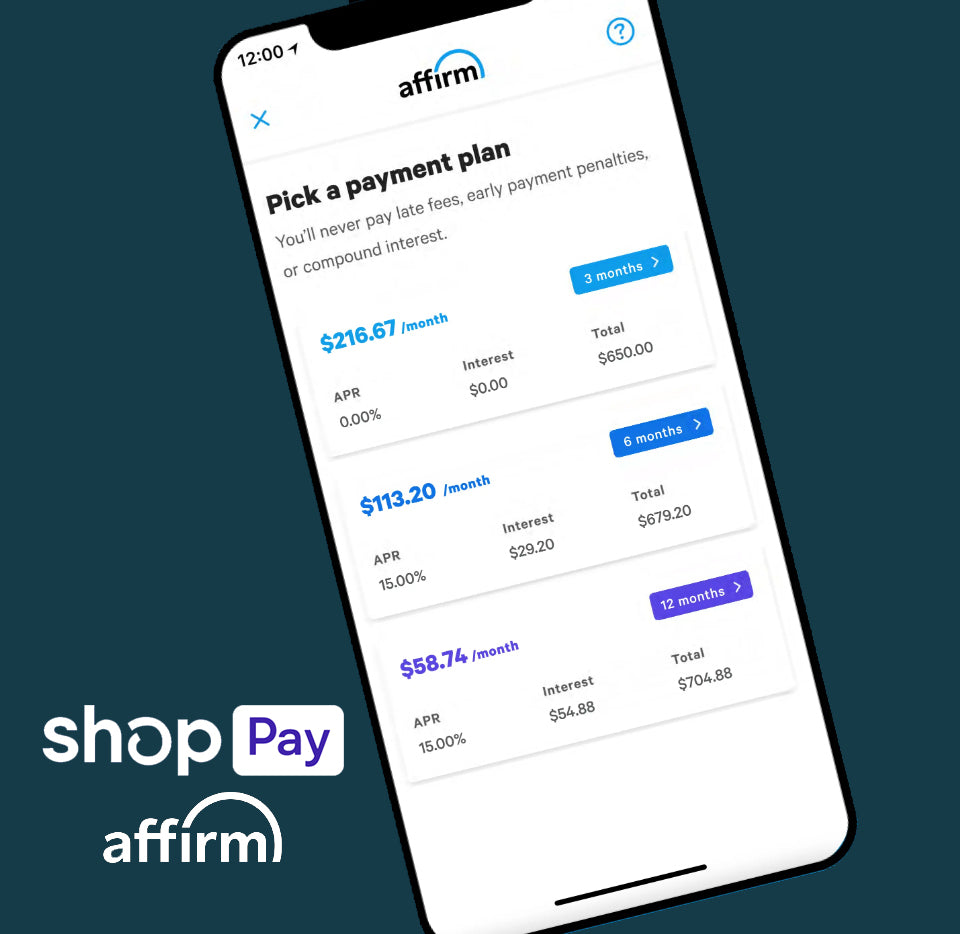 HERE'S HOW IT WORKS
Select Affirm at checkout
Then just enter a few pieces of information for a real-time decision. Checking your eligibility won't affect your credit score.
.
Choose how to pay
Select the payment schedule you like best, then confirm your loan. You'll never be charged more than you see up front.
.
Make easy monthly payments
Just download the Affirm app or sign in at affirm.com to make payments. You'll get email and text reminders whenever a payment's coming up. With Affirm, there will never be hidden fees or surprises.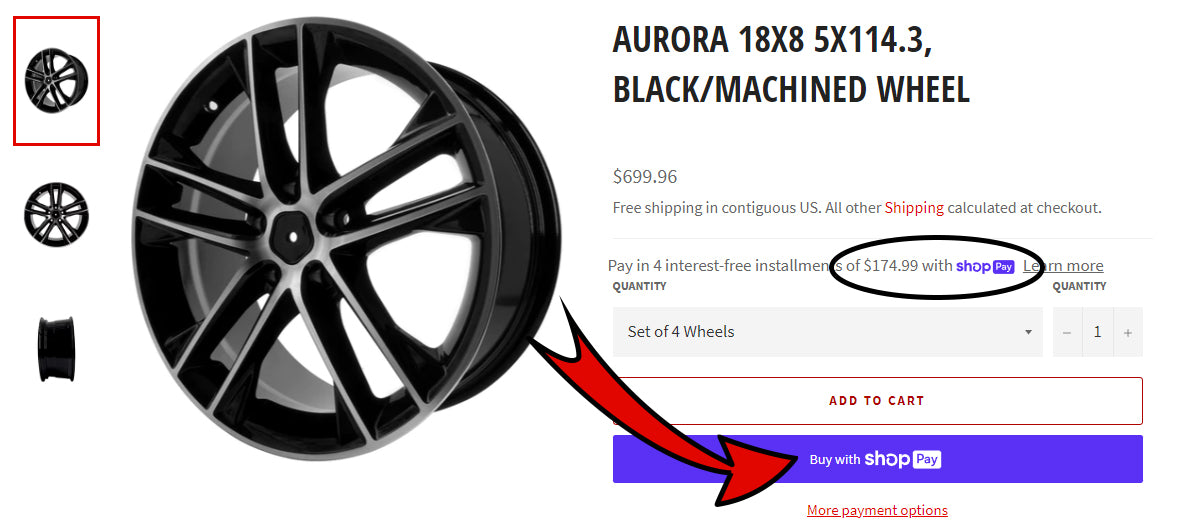 Step-By-Step
Select an item, and simply "ADD TO CART"
or
Select "Buy with ShopPay"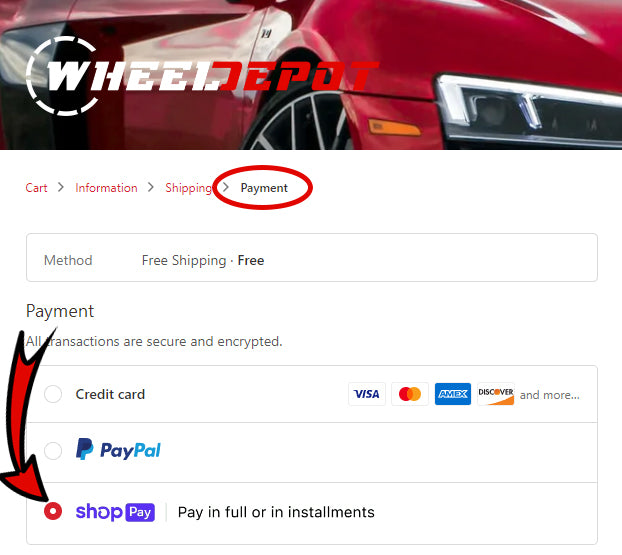 1) Make sure you have all your desired items and quantities
.
2) Fill out your personal information
.
3) Input your Shipping address
.
4) And on the last portion, on the "Payment" method...
Select the option:
→ ShopPay | Pay in full or in installments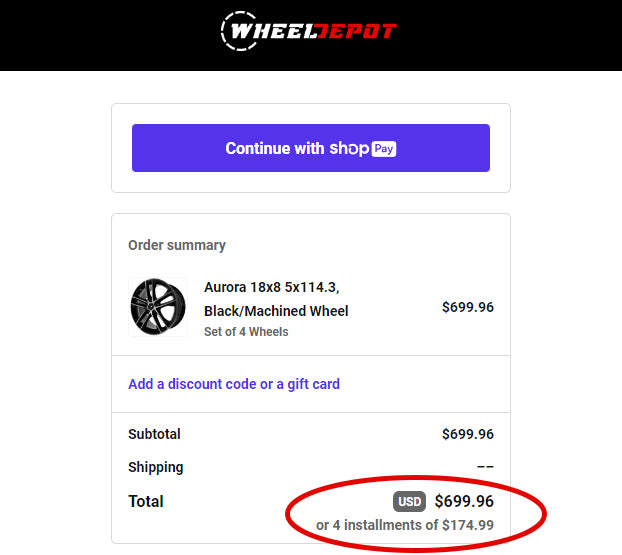 1) Login or Sign Up
.
2) Fill out all your information if you don't have an account with them
.
3) See your installment information and options
.
4) Select your payment method and pay-in-full or installments.
What is Affirm?
Affirm is a financing alternative to credit cards and other credit payment products. Affirm offers real-time financing for purchases online. With Affirm, you can buy and receive your purchase now, and pay for it in fixed monthly installments.
Why buy with Affirm?
Buy and receive your purchase now, and pay for it over time. This allows you to split up the price of your purchase into fixed payment amounts that fit your monthly budget. If Affirm approves you for a loan, Affirm discloses your loan terms before you make your purchase. You'll know exactly how much you'll owe each month, the number of payments you must make, and the total amount of interest you'll be paying over the course of the loan. Affirm does not charge hidden fees.
The application process is secure and in real-time. Affirm asks you for a few pieces of information. After you provide this information, Affirm will notify you of the loan amount you're approved for, the interest rate, and the number of months you will have to pay off your loan, all within seconds.
You don't need to have a credit card to make a purchase.
Affirm bases its loan decision not only on your credit score, but also on several other data points about you. You may be eligible for Affirm financing even if you don't have an extensive credit history.
Affirm will send you email and SMS reminders in advance of your upcoming payment. You can also enable "Auto-pay" to schedule automatic monthly payments on your loan.
Can You Get Wheel and Tire Financing with Bad Credit?
For one reason or another, you might find yourself in a less-than-ideal financial situation but are still looking to buy some new accessories for your vehicle. That's no problem with our partners at Affirm - you're able to get pre-approved for financing right from our site, and best yet, it won't affect your credit score to check your eligibility. We'll work closely with you to help make your payments as affordable as possible, so no matter where you stand, you can rest assured that you can still get the accessories you've been dreaming of.